News
Welcome to my News page. I will periodically update the information on this page with announcements and professionally significant happenings.  
______________________________________

September, 2011
Relocated to the Huntsville, Alabama area.
February, 2012
Launched Nicole R. Harper website. Please don't hesitate to contact me if you have any questions or comments.
March, 2012
Became member of Huntsville Art League and Arts Council of Huntsville.
April, 2012
Awarded State of Alabama Professional Teaching Certification, PreK-12 Art.
Initiated volunteer work at American Red Cross of Huntsville.
Exhibit of work and participation in Arts Council of Huntsville promotional video at Panoply Arts Festival 2012, April 27-29.
Selected to paint one of 35 six foot tall wooden butterflies for exhibition and auction in the Huntsville Botanical Garden's "Green Things & Butterfly Wings" Festival. Grand opening event and further display of artwork to be held May 5, from 11am to 2pm.
May, 2012
Featured Artist on the Huntsville Art Blog site: www.huntsvilleartblog.org/2012/05/featured-artist-nicole-harper.html
June, 2012
Scheduled "Engaging RPCV's in the Classroom" panelist and "Around the World, Botswana" exhibitor at Peace Corps Third Goal Expo in Nashville on June 23, 2012: http://www.peacecorpsconnect.org/resources/expos/nashville/
July, 2012
Welcomed my newborn daughter, Madeline into the world!
August, 2012
Huntsville Botanical Garden fundraiser: The 6 foot tall wooden butterfly I painted for them is being auctioned on-line at www.bidding4good.com/allaflutter
Coordinator for Alabama District 5 Advocacy meeting with House Representative Mo Brooks, to advocate for current political issues and initiatives concerned with Peace Corps. See http://www.peacecorpsconnect.org/district-meeting-days/
Fulbright Alumni Presenter for IIE on-line webinar series, "Meet Fulbright Alumni." See http://us.fulbrightonline.org/component/events/74?view=event
September, 2012
Hosting a Peace Corps Global House Party on Sept. 22.
See http://www.peacecorpsconnect.org/global-house-parties-2012/  and contact me for further details.
March, 2013
Established a registered goat herd with American Dairy Goat Association, Goat Bros. & Does.
April, 2013
Elected to Alabama Fulbright Association Board.
Co-Chair of Panoply Stores, Panoply Arts Festival 2013.
November, 2013
Chaired International Fulbright Visitor's cultural enrichment tour of Huntsville for Veteran's Day Weekend. In partnership with the International Services Council of Alabama the trip included community engagement through host family stays and a panel presentation at the University of Alabama Huntsville as part of International Education Week. The itinerary included a visit to the U.S. Space & Rocket Center, Burritt onthe Mountain, Hudson/Alpha Institute for Biotechnology, a guided tour of the Huntsville Art's Council's SPACES Sculpture Trail and a homecooked American meal at the local home of a U.S. Fulbright Alumni.  See Alabama Fulbright Association Facebook page: https://www.facebook.com/AlabamaFulbright and news article about the event:
http://blog.al.com/breaking/2013/11/fulbright_scholars_spend_three.html#incart_river_default
February, 2014

Hospitality Host for International Services Council of Alabama's Embassy Delegation.

April, 2014
Provided Fulbright Alumni Presentation for the Honors College at Auburn University.
Co-Chair for Panoply Green Room & Talent Logistics, Panoply 2014.
May 2014

Hospitality Host for International Services Council of Alabama's Transatlantic Trade & Investment Partnership Study Tour for European Economists and Think Tank Officials.
June 2014

"Around the World" exhibitor at Peace Corps recruitment event, Nashville.

http://www.peacecorps.gov/volunteer/learn/meet/events/10937/

July 2014
Exhibiting two artworks, selected by jury for the Huntsville Arts Council's gallery summer exhibit in the Von Braun Center thru September.
August, 2014
Elected Vice President of the Alabama Fulbright Association.

September, 2014

Accepted a contract position with The Arts Council of Huntsville to assist in curriculum development for the Alabama State Department of Education's Arts Education Leadership Team.

Provided Fulbright Alumni Ambassador presentations to a variety of universities and colleges in Indiana.

Elected to the International Services Council of Alabama board.
Exhibited two additional artworks for the Huntsville Arts Council's gallery fall exhibit in the Von Braun Center thru December.
October, 2014
Panel presentation participant for Chapter Leader Session at the 37th Annual National Fulbright Association Conference, Washington D.C.


Elected to the International Services Council Executive Board as 2nd Vice President for Fund Development.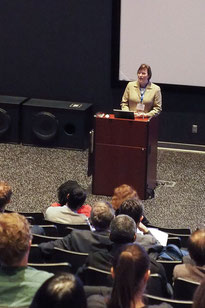 December, 2014
Speaker at the 2014 Fulbright Visiting Scholar Regional Enrichment Seminar on Democracy & Human Rights in Huntsville and Birmingham, Alabama.
Two of my photographs jury selected to be exhibited at the Huntsville Museum of Art for the Huntsville Photographic Society Annual Show in the Haws Gallery, May 2-July 26, 2015.
January, 2015
Inducted as a member of the Rotary of Greater Huntsville.

March, 2015

Co-Chair for Panoply 2015, World Discovery Zone.

Enrolled in Huntsville COSTARTERS program and Brain Trust for entrepreneurs. See: http://www.al.com/business/index.ssf/2015/02/post_223.html and http://braintrust.rockethatch.org/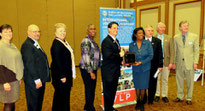 Assisted with program needs for International Services Council of Alabama (transitioned to GlobalTies Alabama) 50th Anniversary Gala event. See: http://www.al.com/
news/huntsville/index.ssf/2015/03/
claes_nobel_global_ties_alabam.html
Joined regional committee to assist with planning of National Fulbright Association Conference in conjunction with the Nobel Peace Summit in Atlanta, GA scheduled for Nov. 15-18, 2015.
April, 2015
Fulbright Alumni Ambassador presentation at FPA Training event at Middle Tennessee State University, April 13, 2015.
May, 2015
CIES webinar training for Fulbright Discipline Peer Review Committee work.
June, 2015
Presenter on Fulbright Alumni Panel at ScholarCon conference in Orlando, FL, scheduled for June 25-28.
Moderator for Returned Peace Corps Volunteer Panel Presentation at Rotary of Greater Huntsville.
Patent application submitted for an invention to be disclosed at a later date.

Proposal for Huntsville Honey Bakery juried in to Lowe Mill Arts Center.

Accepted into MFA Interdisciplinary Arts Low-Residency program at Sierra Nevada College.

July, 2015
Invited to attend The Art Council's STEAM education workshop.
Assisted Global Ties Alabama in the writing of a grant proposal to highlight the historic significance of the Humphreys-Rodgers house, as Board Executive VP of Fund Development.
Received provisional patent, delivered prototypes to Global Home.
August, 2015
Attended first residency for Sierra Nevada College Masters of Fine Art, Interdisciplinary Arts program at Incline Village, Nevada.
Presented designs for Rotary Chapter pin.
Served as judge for BBB Annual Award.
September, 2015
Served on Discipline Peer Review Committee for Fulbright Scholars program.
October, 2015
Honored as Board Member of the Year for Global Ties Alabama.
Labeled our first harvest of honey from our Flock of Woodpecker Farm bee hives.
December, 2015
Coordinated Peace Corps Advocacy events in Huntsville and honored in the National Peace Corps Association Newsletter as Featured Advocate. See: http://www.peacecorpsconnect.org/2015/12/december-2015-featured-advocate-nicole-harper/
February, 2016
Taught a workshop session as a Teaching Artist for K-12 Teachers for The Alabama Center for Architecture and North Alabama Chapter of the American Institute of Architects.
March, 2016
Assisted in a partnership between Global Ties Alabama, Greater Huntsville Rotary and local Returned Peace Corps Volunteers Association to present global issues and paint a global map mural with a local 5th grade classroom.
Assisted with program needs for Global Ties Alabama's hosting of IIE delegates for a Fulbright presentation in Huntsville.
May, 2016
Exhibited two photos at the Huntsville Museum of Art for the juried Annual Huntsville Photographic Society 2016 Member's Showcase thru August 21.
Exhibit photographs by request for display at the Madison County Courthouse for the Global Ties Alabama celebration of Photography Month.

June, 2016
Contributed a painted pallet to the Huntsville Botanical Gardens exhibit (July 1 thru October 31) and fund-raiser auction entitled "We've Got Creatures Coming Out of the Woodwork," created in collaboration with my 3-year-old daughter.
Participated in a Rotary and CASA ramp build.
Provided photos for exhibition for the Spirit.Exhibition at 70 South Gallery in Morristown, NJ, a fund-raising photography exhibition for the National Peace Corps Association.
July, 2016
Selected from a pool of publicly submitted proposals to receive two small grants from the "Something Interesting Downtown" project facilitated by Downtown Huntsville, Inc.
Exhibited photographic works with the Huntsville Photographic Society in the Arts Huntsville Von Braun Center Gallery.
Began serving as International Chair for the Board of the Greater Huntsville Rotary Club.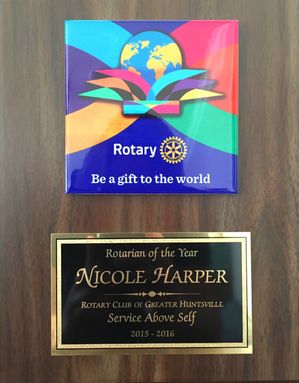 Awarded "Rotarian of the Year" by the Greater Huntsville Rotary Club.
August, 2016
Installed three works of art for Sierra Nevada College MFA in Interdisciplinary Studies Mid-Program Exhibition at U.C. Berkley's Sagehen Creek Field Station in California. Two sculptures were requested to be kept on exhibit on site. One of these sculptures is viewable via the live fish-cam at http://sagehen.berkeley.edu/fish-cam-live.htm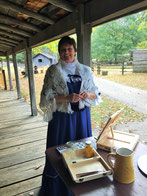 Took part in a local arm of Scott Kelby's Worldwide Photo Walk. Some of my best shots of Huntsville from that walk are above.
Demonstrated 19th Century watercolor painting at the Burritt on the Mountain 2016 Folklife Festival (left).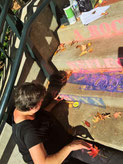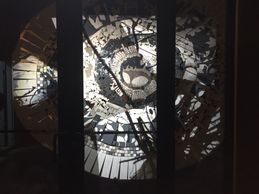 August 2017
Graduated with a second Masters degree: Master's of Fine Art from Sierra Nevada College. Thesis project photo, right.
May 2018
Huntsville Museum, Hunstville AL. "Unexpected Beauty" Exhibition with Huntsville Photographic Society.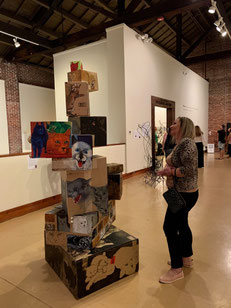 October 2018
Wiregrass Museum of Art, Dothan AL: "Echoes" Exhibition with Alabama Women's Art Caucus.
Spring 2019
Adjunct Drawing Instructor at University Alabama Huntsville.
2019-2020 School Year
Art Teacher, Grissom High School, Huntsville, AL.